Year 5
Welcome to our Year 5 page. Our class teacher is Mrs.Hampson and we are Year 5!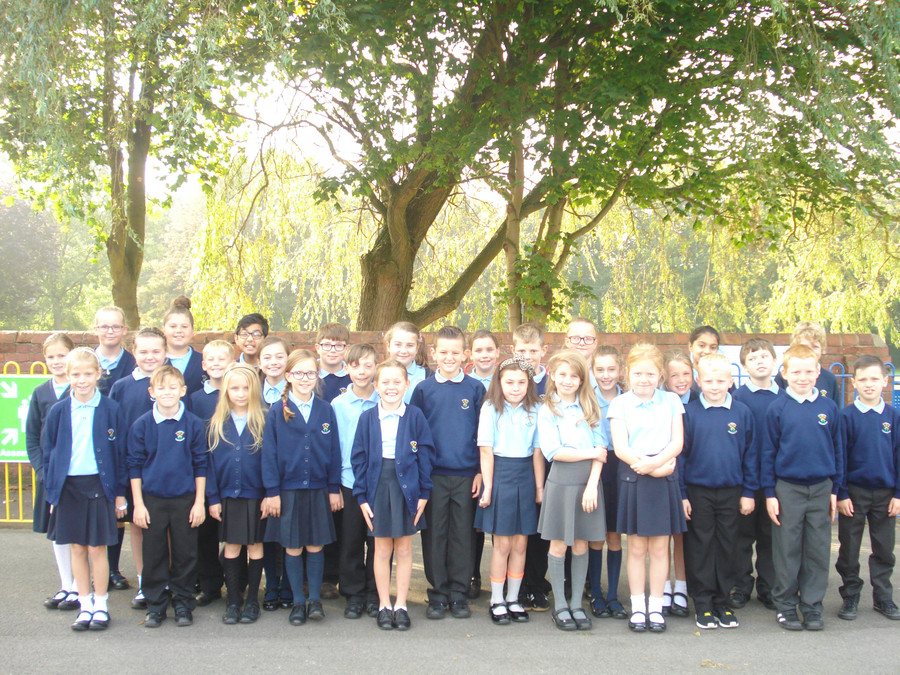 Click here to read Year 5 Curriculum Newsletters.
Year 5 had great fun dressing up for the 'Sixties Picnic.' Mrs Rodgers came in to talk about Washington in 1964. She told us that there had been great changes but some things stayed the same!
On the 6th October we had planned to visit the 'F' Pit, unfortunately it poured down with rain. This didn't stop Marie and Kieth coming to us! Marie told us about life in the mines and we sang some great mining songs.Deep down in the mine it's gloomy and dark...
Our walk around Washington Village
Joe from the Old Hall met us at school and took us around our great village. We found out lots of historical facts for example did you know there used to be a stocks next to Jayelles?Joe also confirmed that Jane Atkinson was not a witch! We finished the day off by finding out about the Old Hall. We were surprised to find out that families used to live there in cramped rooms!
Art Award
We are studying for an Arts Award Explore in Drama. We have been working with Janet and Kath from No Limits theatre. We have enjoyed working in groups and expressing ourselves creatively. Over the next few weeks we need to complete our portfolios so they can be sent away to Trinity College to be assessed.
As part of our Drama we had to visit the Winter Gardens to explore prehistoric Sunderland and watched a play based on this.
On Monday 1st December we invited our families to see our performance for the Explore Drama project. Read the lovely comments our families left for us:
I was at the Winter Gardens with the Year 5 and saw the performance, I think the class did really well in showing us how our ancestors lived. There were some very expressive faces and movements. Thank-You Year 5 and all the visitors.
Fabulous performance. Very artistic and profound was a pleasure to watch. Would love to see more of this.
What a lovely expressive and poetic performance, I was very surprised and moved by the children's ability to be expressive and perform with confidence. Well done to all.
A very emotive performance loved the drumming and the music really added to the emotion. Well done to everyone in Year 5
A great performance by all the children. They have gained great knowledge from their visits to Sunderland and the Art Centre. very expressive faces and good movements. Well done to everyone.
Very uplifting, great to see the children enjoying drama.
Very artistic, great sound effects excellent enthusiasm, powerful and a joy to watch.
A very good performance. the kids did a wonderful job and the music/sounds were very inspiring. Loved it !
Wow! Wasn't sure what to expect but how dramatic! The whole class were great and took their parts very seriously. Loved the foot stomping and the clapping. Well done.
Sunderland astronomy society As part of our 'Stargazers' topic we invited Michael Tweedy and Harry Heron in to talk to us about space and how to use a telescope. They were very impressed with our knowledge.
Mrs Jary asked No limits theatre to come in to perform a piece of drama based on WW1 Year 6 came to watch the performance with us.
We enjoyed our Peasants,Princes and Pestilence topic. We worked hard to write some good personification poems and designed some magnificent shields.
On the 9th February we started our Cycling proficiency course the weather was great! We feel more confident on our bikes now. Thank you to the men from the Cycling proficiency team.
World Book Day 5th March 2015
We had a great day taking about our favourite books and we enjoyed listening to 'The Selfish Giant' by Oscar Wilde.
Click on this crocodile if you dare!